A New Partnership: Forging New Paths with Kichler Lighting
A discussion with Kichler Lighting's Dave Bagnall for this donor spotlight. He serves as Head of Talent & Culture, Vice President of Human Resources.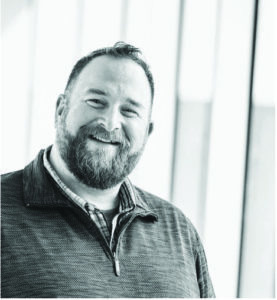 Q. How long have you been with Kichler Lighting and what is your role?
A. I lead the HR function at Kichler Lighting, which includes recruitment, training, employee engagement, diversity, community outreach, and total rewards. I serve on the company executive leadership team and report to the President. I have been at Kichler for less than a year, but I came from another company that is part of the same enterprise.
Q. What was your first impression of OhioGuidestone and the work being done by the agency?
A. We were looking for a local partner doing practical work to help those in need. My team brought up OhioGuidestone as a potential partner and I was impressed with the impact that you were having in the local community.
Q. What values does Kichler share with OhioGuidestone?
A. We are committed to helping our employees find their potential by giving each other both challenges and support. I believe that aligns well to the philosophy of OhioGuidestone.
Q. Kichler became a donor partner during the height of the COVID-19 pandemic. Tell us how important it was to help OhioGuidestone continue providing services.
A. It was critical! The spark to our partnership was as much about timing as other factors; in the height of the pandemic and lockdowns, we saw our local communities suffering and people in great need. We have worked hard together to build a strong company, and we wanted to use our resources to help meet those needs. Our path to helping was to find partnerships with those already connected in the community and OhioGuidestone has been a great partner in that work.
Q. Since becoming a partner with OhioGuidestone, Kichler's commitment has continued to grow. What's behind this thriving partnership?
A. Our goal since the beginning was to not only provide financial support but also to find opportunities for our employees to serve. That aligns to our company culture; we want to serve each other and the local communities where we live and work. If there are needs at OhioGuidestone and our other partners, we want to find creative ways to meet those needs together.
Q. Kichler has also been a strong supporter of our Workforce 360° programs – what about that area is most appealing to the company?
A. We saw this program as a way that our employees could use their expertise to help to others. It was a straightforward way to connect our teams' abilities to those who could benefit from those experiences.
Q. How important is it to help participants develop and build work skills through our programming?
A. Our experience has been that many people have the potential to be successful in the workforce but they are sometimes missing key skills to get a good start. Programs like Workforce 360° can give those people the space they need to thrive in a job they enjoy.
Q. Is there anything else you would like to share about the work being done at Kichler and the partnership with OhioGuidestone?
A. I'm still new to Kichler, but I am excited to see us developing new relationships with community partners. I look forward to finding ways that Kichler and OhioGuidestone can work together!