In-Home Child Therapy
For a child, life happens in the home. It's where bonds are made and learning begins. It's where children are in their element and can act like themselves. And, it's for these reasons we feel the in-home environment is the best location for therapists to connect with children and families on a very comfortable and intimate level.
Child mental health services can be necessary for a wide variety of reasons. As a caregiver, you may be struggling with behavioral issues, noticing developmental delays or worried about other challenges. Other times, stress and trauma can make development difficult. No matter the concern, OhioGuidestone's in-home child therapy and mental health program for children birth to age 6 years old will help meet your child's needs.
Assessment
The first step in the process is assessment. However, assessments in early childhood are different than any other age group—simply because children are too young to communicate what is wrong.
With that in mind, our therapists utilize a highly specialized and developmentally appropriate diagnostic evaluation process. It evaluates behaviors, sensory, motor and processing development, parent perceptions and also looks for any traumatic events that may have been experienced. In the end, the process can help lead to a behavioral health diagnosis and treatment recommendations.
Our process:
Psychosocial history: Working with the caregivers, therapists gain a history of all psychiatric or psychological concerns.
Marschek Interactional Method of Assessment: This structured observation technique assesses the quality and nature of the child-caregiver relationship, including engagement, nurturing, challenges and structure.
Sensory Motor Questionnaire: Parent/caregiver perceptions are critical in understanding the child. By gaining insights from the parent or caregivers' perspective—as well as via observation to determine sensory motor processing development—we can provide the best solutions.
Child Behavior Checklist: This 100-question checklist examines the child on a number of domains to identify key problematic symptoms the child is having, while also comparing them across children at the same age and gender in our society.
Childhood Trust Survey: This trauma-informed approach assesses any traumatic events that the child may have experienced.
Home-Based Counseling
Once an assessment has been made, individualized counseling for families is available. Ideally, this is delivered in the family home, but may take place within the community or at an OhioGuidestone office, if that is more convenient.
Each session includes not only the child, but the parent or caregiver as well, to support parents as they seek new experiences with their child and to encourage attachment and bonding. Play-based, art intervention and expressive activities are often utilized to show social-emotional connections and build skills.
The goal of in-home therapy for kids is to strengthen and improve family relationships and add joy to their lives. And while the focus is on the needs of the child, it is ultimately building parenting and relational skill for the caregiver. Parental learnings may include how to:
Better deal with stress and conflict
Be a better communicator with your family
Better understand your child's needs
Understand discipline and create family rules
Praise and reward children and behavior
Help children learn to handle their feelings
At each in-home therapy session, our counselors work in a variety of ways: Parent/Therapist; Child/Therapist; and Parent/Child/Therapist together. The intensity and frequency of appointments are determined by each individual's needs.
Parent/Therapist
Because the parent is the expert on their child and their family needs, it is so important for the therapist to connect and develop a strong therapeutic relationship with the parent.
Our therapists incorporate a variety of strategies to try to promote insight and develop relationships with the parents. Going back to the initial checklist and questionnaire from the assessment allows the parent and therapist to monitor treatment in an ongoing way.
Therapists can offer developmental guidance to ensure the parent has appropriate expectations and understanding of where their child is. This flexible comprehensive treatment approach helps to focus on reducing symptoms that the parent has identified as important to them—rather than focusing on a diagnosis.
Child & Therapist
Play is primary way that kids learn, develop relationships and explore their world. Counselors will use a number of different sensory and movement techniques to help kids release some of the strong emotions that are stored in their body. Intervention methods include both child-directed and therapist-directed play—both which help children build social skills, communicate feelings, and express their wants and needs.
Child, Parent & Therapist
As the relationship develops between the parent, child and therapist, the home environment provides that opportunity to try different interventions. Together, they will utilize techniques, such as theraplay or massage to improve the parent and child relationship, increase self-esteem within the child, replace negative behavioral cycles that might be happening, as well as to just help with emotional regulation.
Trauma & Child-Parent Psychotherapy
For many families, counseling is required because they have experienced trauma. And no matter if this trauma was a large or small event, or exposure to an ongoing toxic or stressful situation, our counselors work with any scenario to help bring peace and emotional respite to the family.
One of the strategies utilized is to co-create a trauma narrative. Therapists may involve dolls or action figures, sand trays or art therapy to encourage children to recreate the experience for the therapist. Ultimately communicating their trauma through these intervention techniques will help bring closure to the child.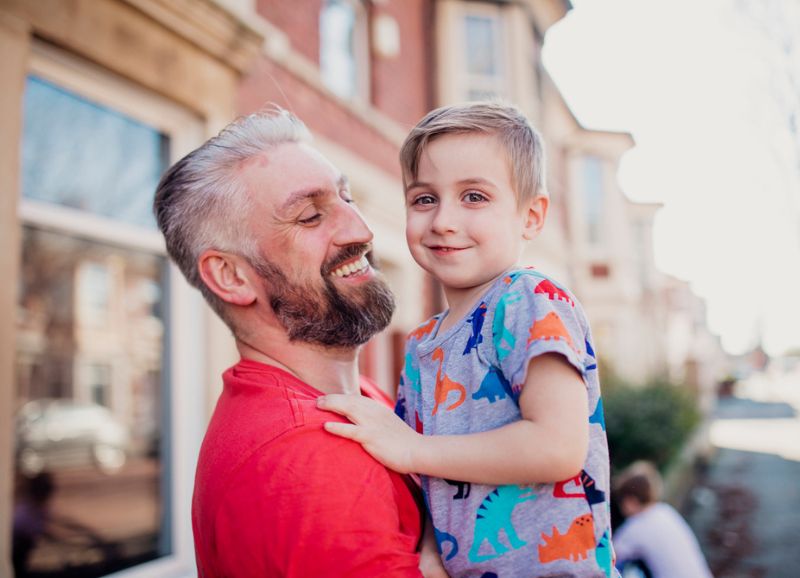 OhioGuidestone can help
Are you in need of our services? Contact us today to learn more about next steps and the kind of care you can expect from OhioGuidestone.