Living on a low income is extremely stressful—especially for families. In fact, low socioeconomic status is often associated with pregnancy complications, such as preterm delivery, preeclampsia, and gestational diabetes; while children of low-income, stressful home environments can have adverse effects, such as lower cognitive functioning.
At OhioGuidestone, we believe that all families, and especially young children, deserve the opportunity to realize their full potential—regardless of economic status. For that reason, we support pregnant women, new parents and the more than 420,000 children living in poverty in Ohio through the Help Me Grow Home Visiting program.
Help Me Grow is Ohio's evidenced-based parent support program that encourages early prenatal and well-baby care, as well as parenting education to promote the comprehensive health and development of babies and young children. This voluntary, in-home program is designed to help improve maternal and child health; prevent child abuse and neglect; encourage positive parenting; and promote child development and school readiness.
A referral is the first step, and can be made easily by the parent, a professional or even a friend via the online form on the Ohio Department of Health website. Of course, Help Me Grow will first contact the parents before proceeding.
Following the referral, families will schedule an in-home visit to help gain the resources they need to maximize this critical period of development in their child's life, providing a foundation for lasting success. Resource topics may include, but are not limited to:
Healthy Pregnancies
Baby and Child Health
Breastfeeding
Nutrition
Immunizations
Child Growth and Development
Discipline
Toilet Training
Child Safety
Household Safety
Local Resources
OhioGuidestone offers two of the four Home Visiting models of the Help Me Grow program:
Healthy Families America: 80% of services are for prenatal to 3 months of age
Parents as Teachers: Prenatal to age 5
Healthy Families America
Healthy Families America (HFA) is one of the leading family support and evidence-based home visiting programs in the United States. Based on the belief that early, nurturing relationships are the foundation for healthy development, HFA promotes child well-being to prevent the abuse and neglect of our nation's children by delivering home visiting services that empower families and communities.
Once a family becomes interested in receiving services, HFA staff will reach out to learn more about their current needs and begin building a strong relationship with the family to be served.
After assessing a family's unique situation, HFA staff will recommend services for families based on their needs—from home visiting to additional community connections. Regardless of the recommendations our staff offer, HFA is always voluntary.
Should home visiting services be recommended, HFA staff will work with families long-term. This may include a wide range of tools proven to help cultivate healthy parent-child relationships, including:
Child development resources
Family goal planning
Prenatal support
Maternal & child healthcare
Service planning
Trusted support
Relationship building
Parent support groups
Referrals to community resources
Parents As Teachers
Parents as Teachers promotes optimal early development, learning and health of children by supporting and engaging their parents and caregivers. Professionals at OhioGuidestone provide a comprehensive home-visiting, parent and caregiver education program—helping families with children from prenatal through kindergarten.
The program models feature four dynamic components:
Personal Visits
Group Connections
Resource Network
Child Screening
Together, these four components form a cohesive package of services with four primary goals:
Increase parent knowledge of early childhood development and improve parent practices
Provide early detection of developmental delays and health issues
Prevent child abuse and neglect
Increase children's school readiness and success
By equipping parents and caregivers with the knowledge and resources to prepare their children, from prenatal through kindergarten, they're more likely to gain a stronger start in life and greater success in school. Parents as Teachers programs operate in various settings, including schools, hospitals, faith-based organizations and housing communities.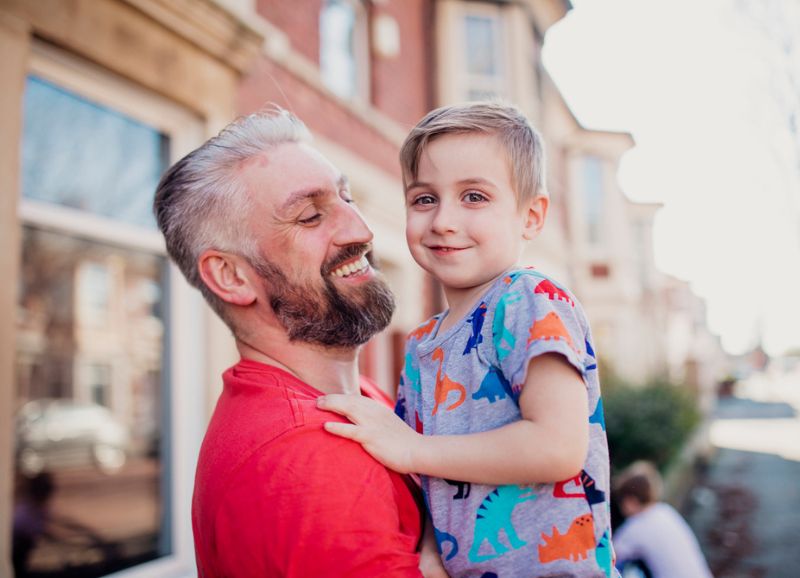 OhioGuidestone can help
Are you in need of our services? Contact us today to learn more about next steps and the kind of care you can expect from OhioGuidestone.