OhioGuidestone Can Help
As a behavioral health agency, OhioGuidestone seeks to address the needs of the whole person. We want to help those we serve to reset their life paths, reclaim their autonomy and restore their purpose. We recognize that mental health challenges or a substance use disorder may have impacted your ability to work. Further, we understand that behavioral and mental health challenges are leading causes of pressure and stress that lead to isolation, generational poverty, illiteracy, and job loss.
So, for more than two decades, OhioGuidestone has offered job training, workforce development, and educational support programs, helping those we serve gain valuable skills that will lead to better career opportunities. You can be a part of our job training programs while receiving treatment for mental health or substance use disorders.
We recognize that people can be underemployed or unemployed for lots of reasons. When you're ready to get training and experiences to help you create a brighter career path for yourself, we have many programs available to help you forge a new path.
Job Training at OhioGuidestone
OhioGuidestone offers job training in sectors such as construction, healthcare, customer service, and manufacturing. Our programs don't just provide job skills training—we also offer extensive supportive services to help you succeed. Is lack of transportation impacting your ability to train for a new job? Do you need help with childcare? Do you need to get your high school diploma or GED? We provide services to help with all of these needs, and more.
Our Workforce 360° programs begin with an orientation, to let you know about your program options. We work with you to determine how we can best help you achieve your career goals. If you decide the program is right for you, you can get training and experience to set a new career path for yourself.
We provide case management throughout the training program, identifying barriers in the way of your success. We work with you to remove those barriers and keep you moving forward towards your goals.
When you have completed your training, we will help connect you to over 300 area employers. You'll receive help in developing your résumé and interviewing skills. We will help you and your employer as you transition into the workforce—we stay connected to you for a minimum of one year after you complete your training. We can also help you pursue post-secondary education or advanced training options. You'll be able to connect to our services as needed as your career develops.
Our Workforce 360° programs information page provides all the information you need about how to connect to our job training programs.
Community Training Programs
OhioGuidestone offers many workshops to help our communities thrive. We offer customized training programs to address the needs of many different groups.
Workshops for Employers
Understanding the variety of challenges faced by your employees can help your company to create a stronger, more resilient workforce and support and retain employees. We offer programs specially designed to help your company better understand the challenges faced by under-resourced employees, how to create a supportive working environment to respond to those needs, and how you can better support under-resourced individuals as they seek employment with you.
Additionally, we know that employers are seeking to increase employee wellness and retention. By educating your leaders in trauma-informed care, you can create a more welcoming and supportive workplace, leading to increased employee satisfaction and retention.
Our Community Training Programs page provides more detail on our program offerings and how you can set up training for your employees or your leadership team.
Workshops for Organizations
Community organizations are striving to better understand the causes of generational poverty, so they can be more effective at alleviating it. OhioGuidestone is a licensed facilitator of Bridges Out of Poverty workshops. These workshops can help your organization to learn about generational poverty and barriers that create day-to-day instability in individual's lives. The workshops also provide resources and tools that can benefit your staff and organization.
You can learn more about our workshop offerings on our Community Training Programs site—we can work with you to design a training that is customized to your organization's size, focus, and goals.
Workshops for School-Based Youth
OhioGuidestone provides many programs and workshops geared to helping youth and young adults succeed. We offer R Rules, a course for middle school and high school youth. Based on the Bridges Out of Poverty approach, R Rules helps students set goals and develop skills to prepare for life after high school.
Workshops for Youth by Referral
OhioGuidestone also offers programs targeted to youth and young adults who are engaged with the criminal justice system or foster care system in areas we serve. These programs are by referral only, but you can get more information about them by visiting our Community Training Programs page.
Job Training Services
Community Training Programs
OhioGuidestone's Community Training Programs provide a variety of workshops and training programs to help employers, educators and community organizations thrive. We offer workshops to help employers retain and support employees. Organizations can find information here about our community development workshops.
Workforce 360°
OhioGuidestone's Workforce 360° programs offer job skills and soft skills training to set you on the path to a brighter future, helping you secure a career with growth potential. We also offer wraparound supportive services, to remove barriers to job success.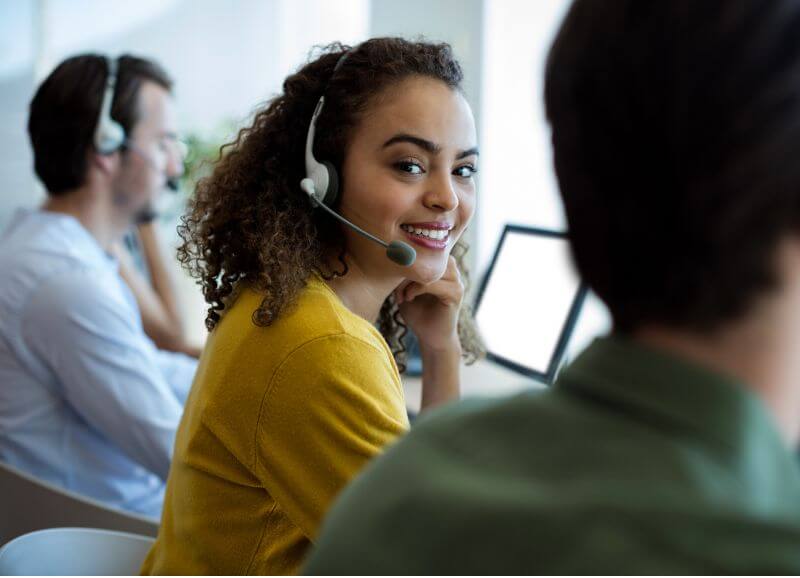 Build a better future
Get started today with one of our Workforce 360° workshops or job training programs.