Volunteer Opportunities
OhioGuidestone offers many opportunities for volunteering, both for the individual, as well as for corporate teams looking to make an impact in their community. You can help make a long-lasting change right in your own community. We have offices across the northeast, northwest and central Ohio, so there are plenty of possibilities for both individuals and corporate teams to bring their time, energy and personal knowledge to the table.
Individual Volunteering
Work is what you are paid to do, but volunteering is what you are passionate about. Our mission to bring new possibilities for recovery and achievement in the lives of our clients is only possible with the generous time, effort and passion of volunteers. If you would like to get involved with our mission, but aren't sure where to start, volunteering is the perfect way to learn more about what we do and how we serve the needs of your community.
Volunteer options include administrative support, event participation, tutoring and mentoring opportunities.
Administrative Support
Do you know your way around a keyboard? Do you have a passion for writing, messaging, email campaigns and more? The administrative team at OhioGuidestone can always use support in our mission to bring therapy and substance recovery to people across Ohio.
Tutoring
If you have experience tutoring others or are knowledgeable in a particular school subject like math, history or science, there are kids in schools we work with who need your help.
You can help them learn faster by breaking down subjects and helping them make sense of the more difficult problems. Your guidance will make them a better student and improve their confidence and mental health.
Mentoring
Share your hardest learned lessons and biggest successes and help young people learn their unique path in life. Many children need someone to help guide them, listen to them, and have a best buddy in their corner. The COVID-19 pandemic created issues in many young children's lives, particularly as they make the transition back to full-time in school learning.
Becoming a mentor means making a commitment to be there for a child who needs advice, direction and life counseling. The inspiration you can bring to a child or teenager is priceless. And the best part is that you will learn too.
Corporate Volunteering
Volunteering is the best team-building strategy there is. You and your team of employees can get out of the office, connect with each other and meet new people, and feel like your work went to something important. Corporate volunteering at OhioGuidestone allows you to apply your company's skillset while accomplishing a goal the whole team can be proud of.
Stories of Corporate Volunteers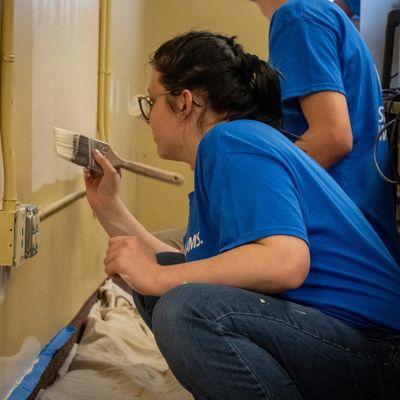 Sherwin Williams employees put their painting expertise on full display in a volunteering collaboration with our Workforce 360° program. Volunteers gifted Workforce 360 trainees with fabulously revamped classrooms and work areas. Sherwin Williams was able to display a commitment to job opportunities for young people, all while displaying their beautifying expertise.  
Students are able to walk on the bus and get one-on-one consultation with Fifth Third volunteers. They're focusing on credit monitoring. They're pulling up credit scores and learning how they may be able to improve their credit, or even start credit.

Nicole Rosenbaum, YouthBuild Program Manager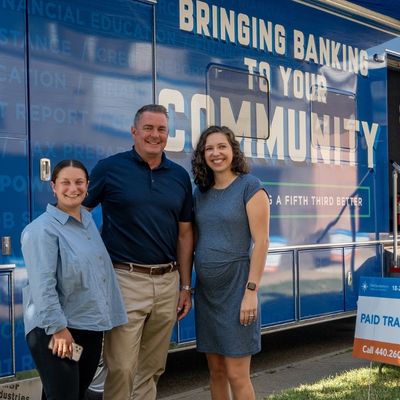 Fifth Third Bank employees educated WorkForce 360° trainees and the public with their eBus, a mobile education center that teaches financial literacy, fraud prevention, bill paying and more.
To partner with OhioGuidestone, who is always just a true partner in the community, that was something special. We're able to bring some of the skills that we have to help out OhioGuidestone. Then for the community side of things, it really does help people who might be underbanked or might have a credit score that needs some work done to it, but it helps that first step for a lot of people.

Hopefully, it generates next steps for them with what we do with the eBus.

Joe DiRocco, Regional President of Northern Ohio at Fifth Third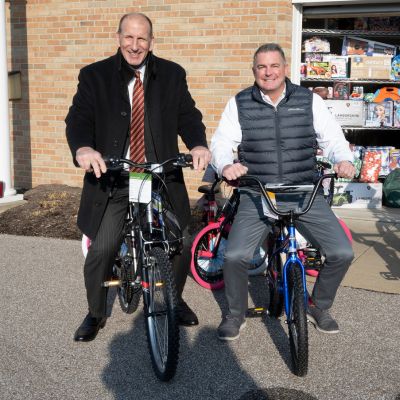 Blue Technologies, a long time supporter of OhioGuidestone, made a huge impact during the 2022 toy drive. The office technology solutions provider was able to get together a literal truck-full of toys to donate for the holiday season.
Together, OhioGuidestone and Blue Technologies teams were able to unload the many gifts and get them ready to be donated.
How to Get Involved with Volunteer Opportunities
If you are interested in becoming a volunteer, contact hrrequest@ohioguidestone.org.
Indicate whether you are seeking individual volunteering opportunities or are planning to get your company team involved with volunteering. Let us know if there are specific volunteer skillsets your company may bring to the table, such as the examples listed above.
Thank you for your interest in volunteering, we're excited to make an impact with you.