Finding Purpose and Self-Worth: One Woman's Incredible Journey to Recovery
Today, Danica Pingle is a Peer Recovery Coach and Mentor with OhioGuidestone, helping families who struggle with substance use disorders. She was on a very different path five years ago.
"I was incarcerated multiple times, homeless, and human trafficked. I was that far gone," recounted Pingle of her own journey before taking the first step toward recovery. "For someone like me, to have people in the behavioral health system that cared about me and respected me, despite my past, changed my life."
After having her son at the age of 15, Pingle's life started to spiral out of control and the young mother lost custody of her child. Then, in 2015, she found her way to sobriety, receiving inpatient treatment for nine months.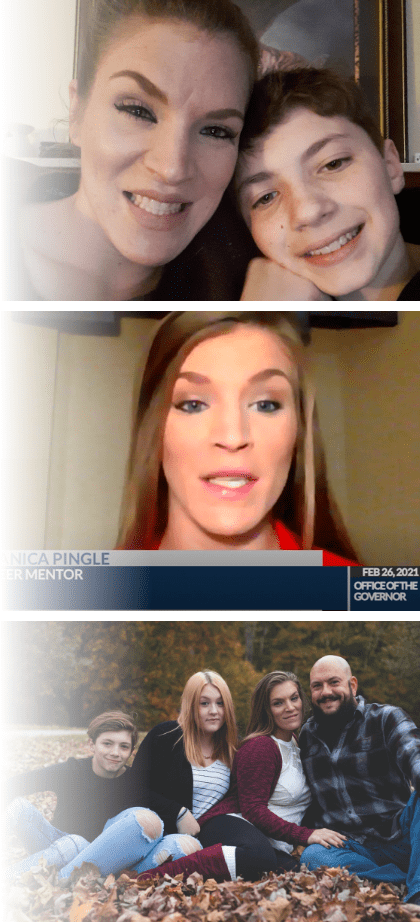 Today, Pingle has reunited with her son, who is now 12, but her journey is far from over. She remains in counseling and continues to repair family relationships, including growing her bond with her child. Pingle is also paying it forward. She has been working at OhioGuidestone for two years and is forever grateful to be able to help those who are facing the same vices she had to overcome. Pingle wants to give them hope, instill a sense of self-worth and help them find or reclaim their love for life.
Through her work with the agency, as well as with the Fairfield County Child Protective Services, Pingle uses her first-hand experience to help people face their addictions and find a new purpose.
In late February, she joined Ohio Governor Mike DeWine at a news conference to discuss her work with the Ohio Start Program for families dealing with substance use disorders.
"We try to get them help as soon as problems arise," said Pingle. "The hardest part of the process is watching parents disengage from treatment. The goal is to stay committed and make positive changes." Pingle wants those families to find the joy she now experiences. She is sober, has her son back, is getting married in the fall and expanding her family!
"For a long time, I never thought I deserved to have a good life. But after years of processing the traumas, I realize I do deserve it because I've worked hard to get here. It really is a dream come true."