OhioGuidestone's Institute of Family and Community Impact Continues Spreading Joy with Help from Harvard University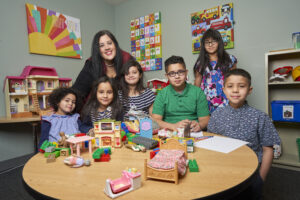 In June 2019, OhioGuidestone's research-based model, Joyful Together©, participated in Harvard University's Center on the Developing Child's Innovation in Action Workshop. The workshop was the first opportunity for Joyful Together to be recognized on a national stage.
As a result of that exposure, the next iteration of Joyful Together—Joyful Together ECE (Early Care and Education)—has now been selected as one of the "Frontiers of Innovation" by the Center on the Developing Child. Joyful Together ECE puts into action the science behind attachment and play and equips ECE professionals with the tools to improve the quantity and quality of joyful interactions with young children, preventing and addressing the negative effects of childhood adversity and toxic stress.
In Spring 2020, OhioGuidestone's Institute of Family and Community Impact, in partnership with Harvard and the Cuyahoga County Board of Health's Ohio Healthy Program, will begin its pilot training-implementation phase in five greater Cleveland centers, serving children from infancy through pre-kindergarten.
Joyful Together is offered in the following counties: Cuyahoga, Erie, Lorain, Mahoning, Medina, Stark, Summit and Tuscarawas.