"Right place at the right time" – One staff member's life-saving decision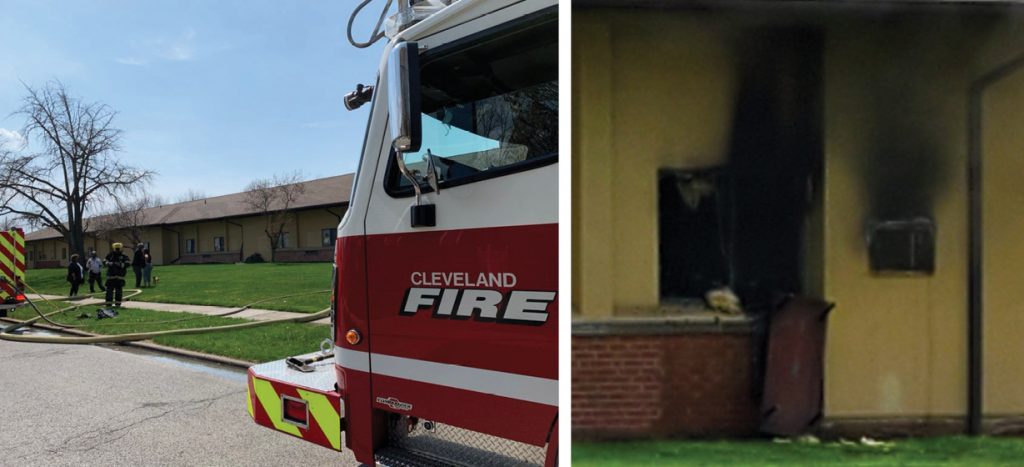 Wednesday, April 7, 2021, started out as any ordinary day for OhioGuidestone therapist and social worker Kristen Nagel. Or at least as normal as things can be during the COVID-19 pandemic. Nagel had an appointment with her client at his apartment building on Cleveland's east side. Due to COVID-19 restrictions, Nagel met her client outside, as they normally would, to allow for social distancing. But during the session, the fire alarm started going off – and things got real, quickly.
"My client immediately became concerned, insisting it wasn't a drill," said Nagel. "In the past, the apartment staff always tells residents if there are any planned drills." Nagel's client was wheelchair bound, so Nagel decided to check things out inside. Immediately after approaching the building, she could smell smoke. When she tried to open the door, the smoke billowed out.
"I just reacted. I knew the smoke was very heavy, and people were still inside, many of them disabled!" exclaimed Nagel.
Putting her own life at risk, she sprang into action. Because it was too dangerous to go inside the building, she did the next best thing – she started banging on apartment windows to alert residents to immediately get outside. "It was pure adrenaline. I was just focused on getting as many people to safety as possible," said Nagel.
One male resident was sleeping just two doors down from where the fire had started. Nagel was able to wake him and help his escape through the window. "I couldn't breathe the smoke was so thick, and I could feel the heat of the fire," she recalled.
Nagel even cut herself pulling him out through the window. The man said she saved his life. "It's weird being called a hero. I was just at the right place at the right time," she said. "And I am very fortunate that my client was so alert and knew something was wrong. He took charge. He's a leader. His instincts may have helped save a few lives."
Thanks to Nagel's quick thinking and decisions, 60 residents were evacuated safely. Her client was able to help gather his neighbors in the yard away from the building. A maintenance worker also helped usher residents to safe ground.
Fortunately, everyone survived what could have been a catastrophic situation.
Nagel didn't just react during the crisis – she was there for her client in the aftermath. She was able to help him secure new furniture due to the smoke and water damage, a process that OhioGuidestone helped expedite. It's a clear example of how OhioGuidestone employees embody our values and guiding principles to help clients find their new path to recovery and safety each and every day.