Supporting Families: Donor Q&A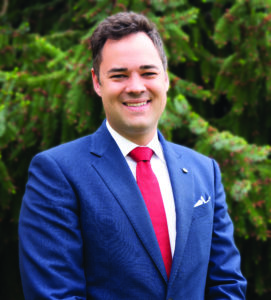 Brian Souder, Managing Partner of the Modern Woodmen of America, shared his experience, thoughts and hope for the work his organization has helped OhioGuidestone accomplish over the last four years.
Q&A:
What was your first impression of OhioGuidestone?
We really stopped in totally unaware of all that OhioGuidestone does. We were really blown away by our first interaction with the whole team here—everyone is so friendly.
What are Modern Woodmen of America's values and how do they fit with OhioGuidestone's?
There are so many of the values, missions and even the underlying Christian values. OhioGuidestone was founded in 1864 to serve orphans and Modern Woodmen was founded in 1883 to take care of widows and orphans—two companies founded in the 1800s that are still around, which is amazing.
OhioGuidestone started as the German Methodist Orphan Asylum and now it's more about improving the quality of life for families. Part of Modern Woodmen's mission is improving the quality of life of our clients and our communities in which we live. As we've gotten to know OhioGuidestone more, so many programs that you have are not only for children but families and adults. A big part of what we do
is help that family unit. Anytime we can partner with an organization like OhioGuidestone, we want to do that because it helps the family unit and that's why we're always going to be a big supporter.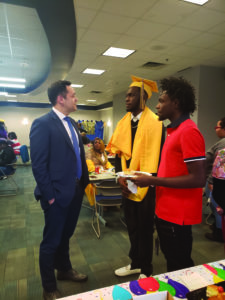 How has OhioGuidestone affected you personally?
It's opened my eyes to the overall need that there is for foster children and the overall need for that family unit in kids' lives.
What is your proudest achievement working with OhioGuidestone so far?
The YouthBuild Graduation was amazing to be a part of that and to be able to throw the pizza party for the kids after. To see that transformation among the kids was pretty amazing. To see firsthand what OhioGuidestone does with the Workforce 360° project—it's amazing.
What are your hopes for the impact you can have in the community partnering with OhioGuidestone? What is your outlook for the future?
I'm excited because I feel like we've only scratched the surface for the overall potential for our organizations. I think the future of OhioGuidestone is good and I'm excited to see the lives impacted and if we can play a small part in what you guys do, we are humbled and honored to be able to do that.