A Lasting Partnership: Donor Q & A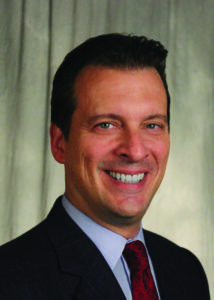 David Muzina, MD, MBA joined Medical Mutual in 2015, serving as Vice President and Senior Medical Director for Clinical Operations. Medical Mutual and OhioGuidestone have been partnering to better our communities since the mid-1990s.
How do you define your role at Medical Mutual?
I manage the Physician and Medical Policy teams, which are responsible for evaluating claims and providing medical rationale for many clinical services. Our goal is to improve healthcare outcomes for our members. My teams provide programs to help our members manage chronic conditions and focus on their overall wellness. These programs are a way to enhance the care our members receive from their healthcare providers.
What was your first impression of OhioGuidestone and the work being done by the agency?
My first impression dates back to the late 1980s and early 1990s when OhioGuidestone (known then as Berea Children's Home) expanded to provide mental health services to our community. I was a practicing psychiatrist at Cleveland Clinic at the time and OhioGuidestone impressed me as a caring and courageous organization that was always willing to partner with us and offer hope to so many vulnerable, at-risk children and families.
Medical Mutual and OhioGuidestone have been allies for over 20 years. What values do we share?
OhioGuidestone and Medical Mutual share a lot of the same values. If I had to choose just a few, I would say we share the values of trust, honesty and commitment to those we serve. Our organizations are built on trust—members trust Medical Mutual with their health insurance and OhioGuidestone has earned the trust of the children and families they've helped for more than 150 years. Both organizations maintain that trust through honesty with those they serve, with their employees and with their communities. Above all, both organizations are committed to their mission and to improving the lives of those who put their trust in them. Those shared values make for a strong partnership.
During the COVID-19 pandemic, how has Medical Mutual adjusted?
Medical Mutual's response to this public health crisis was swift and guided by what was best for our members, their families and our communities. We adjusted our policies, processes and procedures to help our customers and members address their health needs during this time. We were the first Ohio-based insurer to waive all cost-sharing for COVID-19 treatment in addition to testing. We also relaxed eligibility rules to allow employers to keep laid-off employees on their health plans before it was mandated. We adjusted our policies in other areas, like telehealth, to ensure members could continue to access needed medical and behavioral healthcare when office visits were not an option.
Supporting the communities where our members and employees live and work is one of Medical Mutual's key values. As this crisis unfolded, we saw just how important this is and put initiatives in place. For example, within the first two weeks, we accelerated and increased donations to 35 nonprofits on the front lines of the crisis, with a special focus on food banks and other organizations providing basic needs. In addition, our employees joined the effort with a photo compilation initiative that resulted in more than $100,000 donated to COVID-19 Emergency Response Funds throughout the state.
How effective do you believe telehealth can be going forward, even in a postpandemic world?
Telehealth can be very effective and perhaps just as effective as traditional face-to-face, in-office care. Individuals who may not otherwise be able to access behavioral health or addiction services can receive appropriate evaluation, therapy, medication management, and support through telehealth sessions with a wide variety of healthcare providers. The COVID-19 pandemic has resulted in many patients and providers embracing telehealth and driven the development of virtual care programs. In a post-pandemic world, availability of telehealth – especially virtual visits that include a two-way video component – will be critical to continue meeting the health and wellness needs of our community.
How important are the programs being offered for substance use disorders?
We have all heard about the national opioid epidemic for many years now. This is one more face of addiction, which we have long recognized as a biological brain disorder, not something that happens only to people who made "bad choices" and used drugs or abused alcohol. Offering evidence-based programs and services, such as medication-assisted treatment, peer recovery support, and intensive outpatient programs, is vitally important to providing pathways to recovery for individuals and families battling addiction. Knowing that there is help available and that you are not alone are crucial initial steps that break down barriers to engaging in addiction treatment.
Why is mental health so important, especially during the current pandemic?
Anxiety, depression and insomnia are just a few of the mental health disorders people are experiencing during this time. COVID-19 is a new disease and people are experiencing fears and uncertainties about what happens next. We are also being asked to socially distance, which for humans, as social creatures, is difficult to do. People may experience feelings of loneliness and isolation, especially our older population. All this affects our mental health, but it can also exacerbate issues with our physical health. Letting people know that there are treatment options out there is extremely important.
What steps has Medical Mutual taken to help treat mental illness and remove the stigma of treatment?
Medical Mutual was among the first health insurers to remove prior authorization for most medications commonly prescribed for behavioral health conditions, including medication-assisted treatment for alcohol and opioid use disorders. We continually work on identifying quality providers to include in our networks and partner with them to make sure our members can get the help they need, when they need it and where they need it. Our entire clinical team knows the importance of mental health and how effective treatment can improve both clinical and financial outcomes. We place the same importance on treating mental illness as we would treating any medical or surgical condition. Supporting local community organizations, such as OhioGuidestone, is another way that Medical Mutual strives to address the mental health needs of our communities and remove the stigma from treatment.
What are your hopes for the future of the partnership between Medical Mutual and OhioGuidestone?
Substance abuse is an issue disproportionately affecting Ohioans and threatening our communities. We know treatment is effective, and that people can and do recover every day. We are grateful for the recovery and prevention work that OhioGuidestone is doing through the Substance Use Program. It is our hope that, through our partnership, we can make a difference and help those struggling with substance abuse get the support they need.