Advocating For Those We Serve: An Update from the Institute of Family and Community Impact
The Institute of Family and Community Impact (IFCI), OhioGuidestone's center of excellence for clinical research and quality performance, is wrapping up several studies and ramping up others while continuing to advocate for the individuals, families and communities the agency serves.
Joyful Together® Is Now an Evidence-Based Practice!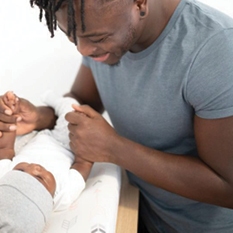 Joyful Together® was recently announced as a childhood evidence-based prevention practice by the Ohio Children's Trust Fund (OCTF).
OhioGuidestone staff helped celebrate by participating in the Joyful Together® Video Game, in which participants recorded videos of themselves doing Joyful Together® activities with their children. These videos will be crucial for future training and development of this innovative, play-based model.
Meanwhile, Joyful Together® was featured at the annual conference of the Association of Maternal and Child Health Programs (AMCHP) in May. Soon it will be offered throughout the state via the Ohio Department of Health.
The Father's Feelings Project
The Father's Feelings Project, IFCI's study into fatherhood and paternal depression, has begun to gain attention both in Ohio and nationally. The project was highlighted at AMCHP 2021 during a panel discussion on fatherhood, featuring OhioGuidestone Director of Applied Clinical Sciences and Research, Brittany Pope. It was also featured at the Association for Psychological Science (APS)'s virtual conference in May.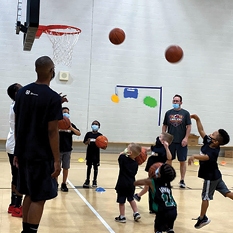 On May 22, IFCI teamed up with the Cleveland Cavaliers to host a special, free Cavalittles Basketball Skills Mini-Camp for dads and kids, led by Bryson "Coach B" Haynes, senior manager of the Cavs' youth sports outreach program, and Ryan Virtue of Positive Coaching Alliance.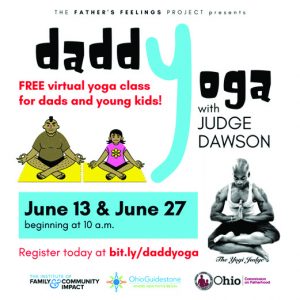 In June, two special virtual yoga events, called "DaddYoga," were held to celebrate fatherhood, led by East Cleveland municipal judge, expert yoga instructor and motivational speaker Judge William Dawson.
DaddYoga was sponsored by the Ohio Commission on Fatherhood, which awarded OhioGuidestone a grant to host the events.
White Papers: IFCI's Calls to Action
IFCI regularly publishes white papers that advocate for particular positions, policies and the people and communities that are affected
by them. Here are the most recent publications:
All IFCI white papers can be accessed here.