Counseling Center in Medina is Making News
Youth counseling is the inspiration behind OhioGuidestone's newest treatment center. The Medina Youth Resiliency and Counseling Center officially opened with a ribbon cutting by Medina County ADAMH board members and OhioGuidestone staff.
The Ribbon Cutting Ceremony made news in the Medina County Gazette and The Wadsworth Area Chamber of Commerce news.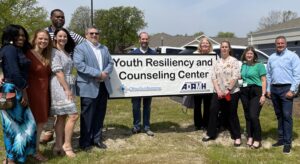 Dignitaries from every level of government gave commendations to OhioGuidestone and the Medina County ADAMH board for creating the one-of-kind Youth Resiliency and Counseling Center at 177 Northland Avenue in Medina.
OhioGuidestone's Medina County Director, Melissa Romain, and Medina County ADAMH Executive Director, Phillip Titterington were handed more than half-a-dozen proclamations from local mayors and county executives, along with state and federal leaders, including Ohio Secretary of State Frank LaRose, US Senator J.D. Vance, and US Congressman Max Miller.
ADAMH provided the funds to build the center, while OhioGuidestone will manage it.
OhioGuidestone's own V.I.P.s were there to congratulate and support Melissa for her part in creating the unique design of the center – a state-of-the-art kitchen at the heart, surrounded by rooms for play therapy, art therapy, sand therapy, and movement therapy, along with counseling rooms, a meeting venue, and a calming room where parents can sit in quiet meditation while their child receives therapy.
Melissa and our CEO Brant Russell gave remarks before inviting the crowd to go outside for the ribbon cutting, officially opening the center, then back inside to tour the building.
Congratulations to Melissa Romain for a tremendous accomplishment, and blessings to the entire Medina County staff who will bring healing and joy to the children and families who enter the Youth Counseling and Resiliency Center.