CRIBBS IN THE CLE: Dealing with Holiday Stress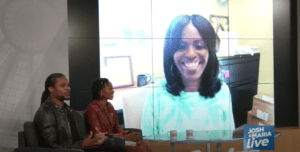 The holiday season can be a time filled with lots of family gatherings, joy and laughter. But this year, due to COVID-19, the holidays will be much different. That can be a trigger for people dealing with mental health illness or substance use disorders.
Director of Community Counseling Tiffany Banks recently appeared on the "Cribbs in the CLE" show on WOIO, offering some advice to weather the months ahead.
Click here to watch her conversation with Josh and Maria.