Why A Domestic Violence Shelter Accepts Pets
A new grant allows PFCS, an OhioGuidestone affiliate, to house more family pets than before at the Harbor House Domestic Violence Shelter located in Appalachian Ohio. Thanks to PetsSmart Charities for this fantastic opportunity, giving peace of mind to families across the state who can now bring their furry family members to safety as well.
Why do Domestic Violence Shelters need space for Pets?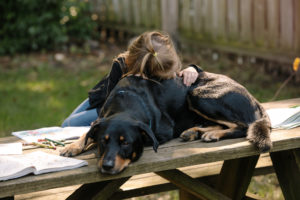 An abuser may not ever stop their behavior. But a victim can become a survivor with the right resources in place. PFCS, an OhioGuidestone affiliate, has services at their Harbor House Domestic Violence Shelter that provide victims comfort, safety, and support.
It can take a victim of domestic abuse seven attempts to escape their abuser for good. They fall into a cycle of abuse, manipulation, threats, and false reasoning that keeps the abuser in power and the victim without options. In abusive situations, threats can keep captive even victims who are determined to leave. Pets are trapped in the cross hairs of domestic abuse. Abusers threaten to hurt or kill pets if the victim leaves. Frequently victims do not escape situations because of fear for their pets, who often cannot accompany them to domestic violence shelters.
Thanks to PetSmart Charities, PFCS's Harbor House Domestic Violence shelter now offers family pets a safe place to stay beside their owners as they escape from abusive situations. This pet facility at the shelter is in a renovated barn, and thanks to this generous grant, has ample outdoor and indoor space for pets to enjoy. Keeping animals and their owners together helps victims of abuse make the transition from a dangerous household to a safe haven.
While the shelter is open to men, women, and children across the state, it is located in Appalachian Ohio.
Why Appalachian Ohio?
Appalachian Ohio has a pervasive domestic abuse problem, linked to its extreme levels of poverty. This poverty is due to geographic isolation, high unemployment, and other factors. Families in Appalachia tend to own more pets, too. This leads to an increased number of victims staying with their abusers for the safety and comfort of their pets.
What can I do to help?
If you're looking to help Harbor House Domestic Violence Shelter as they house families and pets, visit http://personal-family-counseling.com/support-us/ for information about financial or in-kind donations.