Joyful Together© goes to Harvard
In June of this year, OhioGuidestone's research-based model, Joyful Together, was selected to participate in Harvard University's Center on the Developing Child Innovation in Action Workshop in Cambridge, MA. The selection process was competitive, but Joyful Together's selection is high praise of the research and development work we have accomplished, and an affirmation that OhioGuidestone's efforts are among the strongest in the nation.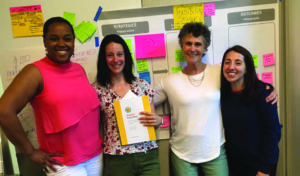 "Our teams are constantly presenting OhioGuidestone's expert knowledge and research around the nation," said Dr. Ben Kearney, Chief Clinical Officer, "However, this opportunity with the Center on the Developing Child Innovation in Action Workshop goes to show that other experts recognize our work and that we are on the best path toward helping the individuals, families and children in our community."
The workshop invitation demonstrated the strengths of Joyful Together on the national stage for the first time. Joining teams from across the country and around the world, a team from OhioGuidestone's The Institute of Family & Community ImpactTM collaborated with leading scholars from Harvard's Center on the Developing Child, to apply the IDEAS Impact Framework. This approach, much like that of Joyful Together , is designed to achieve significantly better outcomes for children and families by increasing understanding of how interventions work, for whom and in what contexts.
Of this experience, Brittany Pope, Director of Applied Clinical Science and Research, stated, "It was cool walking into the session and seeing we've done a little of this, a little of that. It was reassuring to see that we're doing it right, we're doing well. And can build on this."
The future of OhioGuidestone's research and development initiatives are promising and underway. Next to be published is Joyful Together – Early Care (Joyful Together EC), a program focusing on child care and pre-K development. The approach learned at the Innovation in Action Workshop will help to fully define Joyful Together EC.