Know Your Worth: Raising Awareness for Teen Dating Violence
According to the CDC, nearly 1 in 11 teen girls and 1 in 15 teen boys reported experiencing physical dating violence in the last year. Violence in an adolescent relationship can set the stage for problems in future relationships, including intimate partner violence and/or victimization throughout life.
"COVID-19 has had a profound effect on domestic violence in general, including teens" said Pam Trimmer, OhioGuidestone Executive Director. "Even though teens may not be in school, they can still be a victim of violence virtually through digital platforms. Isolation has impacted all victims of abuse."
After dealing with her own unhealthy relationship, 17-year-old Rhylee Shepherd wanted to do something to warn others about teen dating violence.
"People can put you down frequently, isolate you from family or friends," said Shepherd. "After getting out of that situation, I did a lot of research and I realized there were a lot of red flags that I missed or I downplayed. I just thought everything would get better."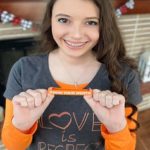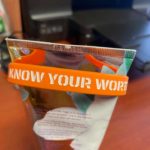 February was Teen Dating Violence Awareness Month and as a part of a senior project, Shepherd decided to take action and help her peers recognize the signs of teen dating violence. She began selling "Know Your Worth" bracelets with the proceeds benefiting OhioGuidestone's Harbor House Domestic Violence Shelter. "We can't thank Ryhlee enough for speaking up, speaking out and most importantly, taking a step to protect herself and having the ability to recognize an abusive relationship," said Trimmer. "It takes a lot of courage as a teen to step away from unhealthy relationships. We hope that her message helps others in similar situations and gives them the strength to reach out as well."
If you would like to support Harbor House Domestic Violence Shelter, visit: www.OhioGuidestone.org.