Medina County: A Community Embracing Recovery
"Creating a community that no longer fears addiction but embraces recovery," is how Stefanie Robinson, Peer Recovery Coordinator, describes the work taking place in Medina County. "That talks nothing about solving the problem but it talks about changing the perspective." Helping the community understand that the addiction crisis affects everyone at different levels is a huge part of the recovery efforts in Medina County. In order to foster that mentality, our Medina office has partnered with several other organizations to hold events, spread awareness and create opportunities for the community to connect with those recovering.
International Overdose Awareness Day
Each year, on International Overdose Awareness day, the Medina office, in conjunction with Hope Recovery Community, holds an event to remember those lost, honor their legacies and offer hope for those in and seeking recovery. Those who have been lost to overdose are still very much present. Each person's seat is saved with their photo—often 200 to 300 chairs. Not only does this help the families grieve, but also "for us in recovery, we have to remember we are all one decision away from recovery and active addiction," said Stefanie. "We have to keep fighting." Every year, the evening includes speakers and a moment of silence with 12 bell chimes, one for each person lost to overdose each day in Ohio.
A Sense of Community
Perhaps the most important part of the International Overdose Awareness event this year was the community dinner held immediately afterward. These community dinners, sponsored by OhioGuidestone and other local organizations, occur every Saturday as an opportunity for people to come together and share a meal. "Saturday dinner, these events—you don't have to have lost someone to attend these. You don't have to be in recovery yourself; you don't have to know someone in recovery—you could just live down the road and want to share a meal," said Melissa Romain, Director of Medina County Programs. These dinners have spearheaded many connections within the Medina recovery community. Both those in recovery and those not, come together and everyone begins to realize—they're all the same. They all eat pizza the same and they all have their own issues. It lets those in recovery know they're not alone. Individuals have formed relationships and bonded. When someone is missing, they are noticed. If another is in need of clothes, someone brings pants and shirts. People walk in needing treatment or help and are placed in the right hands as soon as the next day or even the same night.
Creating a Recovery Campus
Often times, individuals on the journey to recovery encounter roadblocks when looking for help. However, when they walk into a Saturday night dinner or show up at the door of the Medina County Office, they find the resources they need to start their path to recovery.
The first step on that path usually includes a peer supporter who has been in recovery for at least two years and is trained and certified. Most importantly, they are also living a recovery lifestyle. The peer supporter usually leads the client toward clinical services. The clients form bonds with their peer supporters, who can relate to them from their own experiences. An accepting staff, meeting the client where they are, not trying to push them in any one direction—that's the true OhioGuidestone difference. We empower the client to determine their own path to recovery. When clients miss sessions, their counselors will follow up and check-in, not automatically eliminate them from the group. Our staff have worked hard to make our offices welcoming—places where clients feel they can show up. "We have clients actually excited to come to group and to engage in our services," said William Maxon-Kann, Supervisor, Medina County. "We try to work with everyone, be flexible, get them what they're looking for and help them where they are."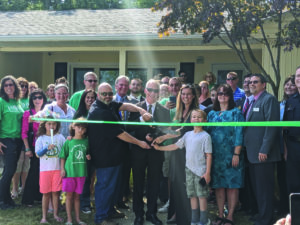 Working with the Alcohol, Drug Addiction and Mental Health Services (ADAMHS) Board, Hope Recovery Community was created, a nonprofit governed by those in recovery to help their peers. On September 20, the Hope Recovery Community house was publicly opened. The opening featured a key passing ceremony from the (ADAMHS) Board to OhioGuidestone and finally to the threshold of the Hope Recovery Community house, where Mayor Dennis Hanwell cut the ceremonial ribbon and unlocked the door. The house will be open 70 hours each week and will serve as a place where groups can meet, sessions can be held and people who are in need of help can seek it. It's important for those in recovery to know they are not alone. They want to feel connected, which is why Hope Recovery Community will use the new house for support groups, yoga, pro-social activities, education, wellness programming, art therapy and more.
A block over from the Hope Recovery Community house, a new women's recovery house is breaking ground. OhioGuidestone will operate the level three home where our recovery support services will be offered to residents. This "recovery campus," as Melissa and her staff are calling it, is in walking distance of the OhioGuidestone office and many businesses from where these women can seek employment.