Mismatched Masks: Perfect Fit for Community in Need
In February of 2020, OhioGuidestone's Workforce 360° participants were busy sketching out their plan for the new year. However, that quickly changed when COVID-19 hit the state and in-person classes came to a halt. As social distancing became the new norm, so did wearing masks. The critical need for masks in large quantities led to a unique and potentially life-saving endeavor.
The first call for help came from Lake Health Hospital – they needed hundreds of masks to accommodate visitors, patients and staff at their facilities. That plea landed at the Workforce 360° Comprehensive Case Management Employment and Training Program (CCMEP) in Geauga County.
"I was put in contact with a representative from the hospital, who told me of their situation," said Kimberly M. Brown, OhioGuidestone's Regional Program Manager for Lake and Geauga Counties. "My staff immediately contacted the individuals in our program, knowing this would be a wonderful and life changing experience."
Eleven participants from CCMEP in Geauga County immediately volunteered to start making masks. It was their opportunity to help a community in need.
"When the pandemic started, I felt that there was nothing I could do," said Hannah H, one of the participants. "However, when I saw that there was a desperate need for masks, it was clear that my peers and I could no longer sit back, so we decided to do something and help those in our community."
The youth got a jump start thanks to a donation of three sewing machines and some material from Judy Breedlove of the East Geauga Kiwanis. It became a total team effort – some would cut out the pattern; others would sew the cutouts and elastic to make the masks.
The project quickly grew as demand increased, so the youth named their endeavor "Mismatched Masks" and took a big interest in the business side of things. The participants are in charge of pricing out material, elastic and the sewing machine needles. They even price shop to get the best deals and save money.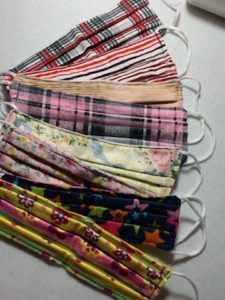 "They work as a team with the other participating youth on all aspects of the project," said Brown. "It has become a great bonding experience to work together to help their community."
Once the group fulfilled their initial commitment of 500 masks to Lake Health Hospital, the next call came in: 300 masks for staff at Geauga County Job and Family Services. So far, the CCMEP youth have made more than 800 masks, and they aren't closing up shop! The group plans to continue "Mismatched Masks" as long as there is a need in the community.
"I have come to realize that this pandemic is not a time where we can sit back and watch; this is a time where we depend on each other and help those in need," said Hannah. "I am so thankful that OhioGuidestone brought me this opportunity."
This initiative has also reaffirmed the importance of CCMEP and Workforce 360°'s mission to provide supportive services focused on removing barriers to employment, giving participants the strength they need to transform their lives, improve their family income and achieve self-sufficiency –all while making a difference.
"Being put in charge of such a big project makes me feel like people view me as a leader and responsible person," said Jessica K, one of the participants. "I am so glad to be part of this project during this time. Thanks to OhioGuidestone for coming up with the idea and thinking of us."
Participant Kristina K added, "This opportunity has made me grow as a person while creating new hobbies and sewing friends."