News 5: More people seeking mental health services during pandemic, rise in community violence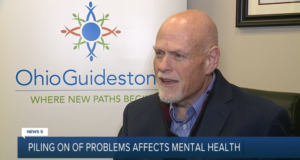 The need for mental health services is increasing. The on-going COVID-19 pandemic, increasing community violence, and seasonal changes all serve as sources of stress, anxiety, and depression for many people.
OhioGuidestone Chief Clinical Officer, Dr. Ben Kearney, spoke with News 5 Cleveland's Jade Jarvis to discuss the rise in individuals seeking mental health treatment. Watch and ready why Dr. Kearney says making connections is so important during these trying times.