OhioGuidestone Leads COVID-19 Response with Telehealth Tool for All Providers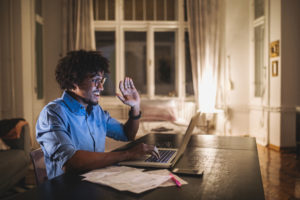 As a leader in the field of behavioral health, OhioGuidestone is known for constantly adapting to better serve our clients – the coronavirus (COVID-19) crisis is no different. For several years, the agency has offered telehealth services as a complement to inperson counseling and treatment. The current global pandemic has revealed the need for such services to be even greater than anticipated, as providers across the state rapidly work to pivot their approaches to behavioral health.
In response to that need and Ohio's new emergency rule to expand the types of behavioral health services allowed through telehealth, OhioGuidestone is offering a newly developed Therapeutic Phone Tool, at no cost, to help all behavioral health providers care for their clients while mitigating potential exposure to COVID-19.
"Providers must be able to serve their clients in all circumstances, especially those most at risk of toxic stress, anxiety and depression – we have a duty to continue our work, no matter the barriers we face," says Dr. Benjamin Kearney, Executive Vice President and Chief Clinical Officer. "We want to make sure providers all over the state have the best information in front of them when they switch over to treating their clients through telehealth."
Developed by the Institute of Family & Community Impact, OhioGuidestone's center of excellence for clinical research and quality performance, the Therapeutic Phone Tool offers a collection of behavioral health interventions recommended for use via telehealth practice. Providers can use this tool as a resource when treating clients through video conferencing or simply by telephone, allowing them to easily connect anytime and anywhere.
"It has always been a hallmark of OhioGuidestone to evolve to meet the changing needs of the individuals and communities we serve," says Kearney. "It is why our doors are still open and our services remain available, despite the presence of COVID-19. Extending our capabilities to help other providers allows them to do the same."