OhioGuidestone Merges with Toledo-Based A Renewed Mind
July 2, 2021- Berea, Ohio –  OhioGuidestone, one of Ohio's largest non-profit behavioral health organizations, announced that effective July 1, 2021, the merger of A Renewed Mind with OhioGuidestone is complete.   A Renewed Mind is a Toledo-area non-profit organization at the forefront of substance use disorder (SUD) services.  The combined organization will operate as OhioGuidestone; however, A Renewed Mind will continue to be known as A Renewed Mind, A Division of OhioGuidestone, in Western Ohio.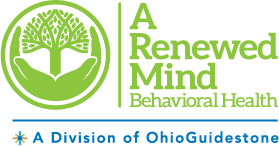 The two like-minded organizations are collaboratively strengthening their approach and reach, combining resources to achieve greater impact and long-term sustainability. The merger enables OhioGuidestone to further enhance its response to the ongoing opioid crisis and to expand additional services into Western Ohio, providing pathways for growth, achievement and lifelong success to even more people in need. As a Division of OhioGuidestone, A Renewed Mind strengthens its approach and reach, gaining access to additional client support services such as work and employment support, early childhood mental health services and parenting programs.
"This announcement marks a significant strategic milestone as the growth and evolution of OhioGuidestone continues," said Richard Frank, OhioGuidestone President and CEO. "OhioGuidestone is committed to providing a strong, strategic response to the continued opioid epidemic and A Renewed Mind is, and has been, at the forefront of SUD services, especially residential care and recovery housing. We also saw a need for our programs and services in Western Ohio and this will enable us to help people in those communities."
Both OhioGuidestone and A Renewed Mind are recognized and trusted names in behavioral health care. Through shared expertise and collaboration, together the two organizations will significantly advance the availability of innovative, client-centered mental health and addiction care service models in their communities.
"We are excited to join OhioGuidestone," said Matthew D. Rizzo, President of A Renewed Mind. "OhioGuidestone has a long history of providing targeted, responsive programs that facilitate real, lasting change in the lives of those they serve. We are thrilled to be able to integrate our SUD services into their model, and to be able to offer additional behavioral and mental health services to our clients."
"We couldn't have found a better fit in terms of culture," said Frank. "Not only do our organizations share a deep and abiding commitment to serving those in need, but OhioGuidestone and A Renewed Mind also share many common attributes. We're both faith-   based entities, we both have loyal, committed employees, and we have a similar history of growing and evolving services to meet the needs of our communities."
###
About OhioGuidestone
OhioGuidestone, a leader in the field of behavioral health, has been helping individuals throughout Ohio reset their paths, reclaim their autonomy and restore their purpose for more than 157 years. The nonprofit, Berea-based organization connects individuals with the resources needed to achieve lifelong success, providing community counseling, substance use disorder treatment, early childhood mental health services, workforce development training, domestic violence support, foster care services and more.
About A Renewed Mind
A Renewed Mind delivers personalized, high-quality behavioral health services in a compassionate manner to its communities in Western Ohio including Fulton, Henry, Williams, Defiance, Lucas, Hancock and Wood counties. A Renewed Mind has developed a reputation of providing quality services based on its commitment to respecting the individual and in forming strong therapeutic relationships.