School Services Programs Soar with High Performance and Growth by the 100's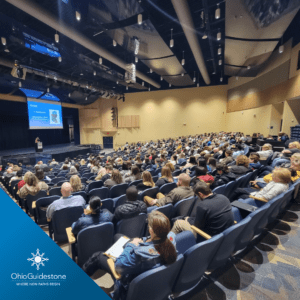 School Services has seen outstanding growth and performance in the last few years at OhioGuidestone.
It's hard to comprehend that in 1864, one man's kindness and willingness to help a few children orphaned by the Civil War, grew into the largest behavioral healthcare provider in the state and the OhioGuidestone we know today. Even more amazing is the data on the latest work being done by OhioGuidestone within the school services we provide.
Our latest research shows more than 150-thousand students in 327 schools have access to OhioGuidestone's behavioral health services, and those numbers are growing quickly. More than half of the schools we serve are elementary schools, where early support and intervention are key to developing healthy behaviors, a positive attitude about school, and a joy of learning.
See the latest data on OhioGuidestone School Services
Although the sheer number of schools we serve is impressive, it's the programs within our School Services that are fueling that growth. Teachers, students, their families, and staff, are facing challenges that wouldn't have been fathomable a century-and-a-half ago, or even a few decades ago. Violence in schools is at an all-time high, and substance use has expanded into new forms like vaping. Social media influences and marketing messages are adding to confusing perceptions of medical marijuana and vape pens somehow being less dangerous than other substances. OhioGuidestone programs focus on educating young people about the reality of substance use and what it does to the human body.
School Services SUD Prevention
School Services Early Childhood Intervention
Our services are in 166 elementary schools across Ohio. This is where some our most important work is done. Addressing problems early removes barriers to learning and future success. Sometimes the difficulty a child is experiencing is related to an issue at home. With early intervention programs that are evidence based and supported by OhioGuidestone's Institute of Family and Community Impact parents become more involved in their child's learning and behavioral health, leading to an overall healthier family environment.
Innovative Early Intervention Programs:
Joyful Together© School-Based Mental Health
Help Me Grow ECMH
Joyful Together ECE Trauma-Informed
Second Step is a social-emotional learning program that we use primarily in grades K-8
Incredible Years brings an OhioGuidestone specialist into a classroom activity, allowing teachers to observe students learning and participation behavior to spot potential barriers that could affect a child's health.
At OhioGuidestone we know that early intervention is key to ensuring a jump-start on lifelong success and a joy of learning.
School Services Continue with Education
OhioGuidestone uses evidence-based 3-Tier Method of Prevention in Ohio Schools
OhioGuidestone Specialists are developing programs designed to meet the ever-changing needs in our schools. These are just a few examples of the innovative work being done within our School Services staff, and the latest audiences they are reaching.
One program addresses toxic stress and mental health within the education system. Teachers and Staff in Garfield Heights City Schools learned how to recognize, understand and address the daily stress they encounter in schools and within the community.
Students in 9th and 10th grades at Olmsted Falls High School learned about the reality of vaping and it's negative consequences.
Students learned that E-Liquid, the substance sometimes used in vaping is particularly dangerous and that technically it is a poison.
School Service Training for OhioGuidestone Staff
In addition to the school programs we offer, our school services training continues to adapt and grow. Kaitlin Pratt and Cynthia Simo, in Lorain County, provided School Services training for some of our OhioGuidestone staff. Objectives of this course included learning to:
Confidently implement evidenced-based social-emotional groups in educational settings.
Learn how to select appropriate curriculums based on students' needs.
Learn to navigate questions/concerns from school staff when planning for prevention groups.
Learn to problem-solve barriers to the service provision of groups.
Review & practice using evidenced-based collaborative learning strategies to improve engagement through the group.
Review appropriate documentation of the service.
Increase confidence & be empowered as a group facilitator
OhioGuidestone school services continue to be a top priority under our behavioral healthcare umbrella. As the number of students grows, the need for school services expands. Our staff is dedicated to meeting those complex and evolving needs and empowering students to take steps toward a healthier future.