OhioGuidestone's Father's Feelings Study Expanding To Southeast Ohio
The Ohio Children's Trust Fund (OCTF), the Ohio chapter of Prevent Child Abuse America, has announced a $25,000 grant to expand the Institute of Family & Community Impact's groundbreaking Father's Feelings study. The research study would expand to Southeast Ohio, to help promote positive parenting through this fatherhood initiative.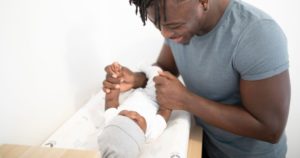 "Becoming a new dad can be both exciting and overwhelming at the same time. However, most people don't think about providing postpartum support for fathers," said OCTF Executive Director Lindsay Williams. "Because fathers are instrumental in child rearing, we want to make sure they have the resources they require to be successful caregivers, too. The Father's Feelings project is helping us to understand and address their specific needs in a meaningful way."
Read more from Prevent Child Abuse America's announcement.