OhioGuidestone's Residential Treatment Center Completes Renovations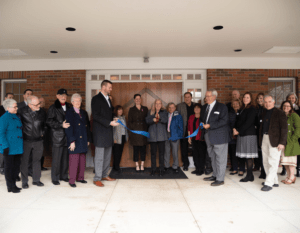 With the help of countless donors and foundations, OhioGuidestone was able to complete a $400,000 renovation at the Residential Treatment Center.
"The renovation was extraordinary," says Kiersten Watkins, Assistant Vice President of Program Administration. "Every cottage on the campus was repainted and re-carpeted. We have brand new furniture in all of the cottages—we hadn't had new furniture and updates in over 30 years."
The renovations were challenging, as the cottages need to provide an environment that is both comfortable and secure. The furniture at the facility was nearly three decades old and had sustained significant damage over time, requiring the staff to repair it several times a month. The updates needed to be aesthetically appealing while also providing the sanitary, safety and security features that are desperately needed in a behavioral health facility.
The 78 children and nearly 100 staff who work at the residential facility are happier and express a new sense of pride in their cottages. "So many of the kids come here and they have very limited self-esteem—believe it or not, it has really built on their self-esteem because they have a nice atmosphere that they're living in, so they want it to look nice and treat it well," says Watkins.
On March 4, OhioGuidestone's 156th birthday, a ribbon cutting and celebration was held to commemorate these renovations and the future of the Residential Treatment Center. Following lunch, the guests were able to tour the newly renovated facility to see first-hand what their generosity was able to accomplish.