Victim to Survivor to Thriver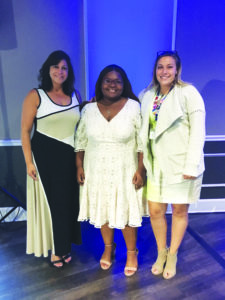 "Victim to survivor to thriver." Those are the words OhioGuidestone therapist, Emilene (Emmie) Badalamenti, uses to describe her client, Ralyn – a positive, happy and ambitious young woman, excited about graduating high school this year and achieving her goals. "I'm not the same person I was three years ago," says Ralyn. "If it wasn't for OhioGuidestone and Miss Emmie,  I don't know where I would be."
Indeed, in 2015, Ralyn was in a very different place. Her stepfather, the only father figure she knew, was released on parole after being incarcerated for most of her life. Upon his release, her mother asked him to move back in, hoping to provide a stable family environment for her children. Like most families, Ralyn's had its ups and downs, but for a time, everything was okay – until it wasn't. Her stepfather began physically abusing Ralyn and her siblings on occasion. He would always apologize immediately after and promise it wouldn't happen again, but inevitably it would.
By the beginning of 2017, Ralyn and her family had moved to a new apartment in Warrensville Heights. It was there that her stepfather began sexually abusing her and it took its toll. Fighting depression and an eating disorder, Ralyn began to feel self-conscious and suicidal. She felt like an outsider in her own home. Her mother, brother and stepfather were a family, but she was not his daughter. Her stepfather threatened to harm her and her loved ones, and paid her to stay quiet. Even worse, he made her feel that her mother wouldn't believe her if she ever disclosed the abuse.
With her home life in turmoil, school became Ralyn's safe haven. It was the one place she could be herself, the one place she had friends who cared about her. Soon that, too, would change. One afternoon, Ralyn and her brother were called to the office and told they couldn't get on the school bus. Her stepfather had called the school and threated to harm her, so Ralyn's grandmother came to pick them up.
As they approached their apartment complex, Ralyn noticed police and Special Weapons & Tactics (SWAT) cars in the parking lot. Her mother was standing with them and crying. Ralyn always worried about her mother's safety when she was at school – she knew there were days her stepfather would abuse her mother from the time Ralyn and her siblings left until the time they returned.
On this day, Ralyn's mother had managed to flee the apartment where her stepfather had barricaded himself inside. While SWAT and police tried to coax him out, he shot the family dog and lit the building on fire. As the fire department worked to put out the flames, Ralyn's stepfather was arrested. After three years of trials, cancelled hearings and pleading insanity, in February of 2019, he was finally found guilty and sentenced to 45 years in prison.
While that brought some relief, it was still a difficult time for Ralyn. The emotional stress of the trauma weighed on her so much that she no longer wanted to attend school – and she was being bullied. Unaware of what was happening in her personal life, her school accused her of truancy. "OhioGuidestone came in because of the truancy," said Ralyn. "I didn't want to participate but my mother said I had no choice."
Ralyn came to OhioGuidestone through the Pro-Kids program where she met Miss Emmie. Pro-Kids is a 120-day diversion program designed for truant and unruly kids through Juvenile Court. If the student completes the program by engaging, going to school and making improvements, they no longer have to go to Juvenile Court and the offense is removed from their record. "It's very typical that a child comes to our attention for what looks like unruly behavior or truancy," said Jill Tayfel, OhioGuidestone Director of Community Counseling. "To anybody at school she looked like an angry kid that didn't want to learn, but if they knew everything that she was going through between the hours of 3:30pm and 7:30am, when she had to go back to school—it would provide a lot of context."
"I really didn't know how much I needed it until me and Miss Emmie started meeting and talking," Ralyn  reflected. The more she met with Emmie, the more she felt herself opening up and her trauma and stress began to ease. "Truancy was the best thing that could've ever happened to me," Ralyn said smiling. "They helped me a lot. I'm grateful God put them in my path—especially Miss Emmie."
"One word to describe Ralyn is resilient," says Emmie. "Seeing her get a love for life back, be able to take these huge strides in her life, and to heal and forgive in her own way and hope for the future—when I first met her, that was diminished."
Ralyn is now looking forward to graduating high school and getting a business degree. Then, she wants to attend cosmetology school, get her license and open a hair salon.
"Without OhioGuidestone, I don't know how far behind I would be in high school," says Ralyn. "Everyone should get a Miss Emmie. Miss Emmie was a big part of me becoming who I am now. I'm forever grateful."