Non-profit Donor Shows Gratitude Through Cupcakes – 3 Girls Cupcakes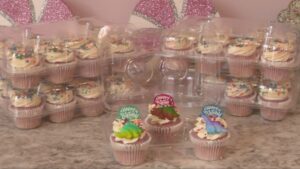 As a non-profit agency OhioGuidestone relies on donors to keep us going. 
The generosity of our corporate partners is overwhelming, especially because many of them have been clients or loved ones of our clients, and they want to make sure others have access to OhioGuidestone services and exceptional behavioral healthcare.
Three Girls Cupcakes is one of our favorite partners, and one of our most cherished relationships.  Owner and former client Maria Brenders has a unique way of thanking us for helping her family. She donates cupcakes whenever possible, and for years has taken birthday cupcakes to every child in our residential program. 
Maria's kindness recently caught the attention of WKYC-TV (NBC Cleveland) who featured Three Girls Cupcakes on their morning show.
Thank you, Maria for your kindness and generosity, and for your friendship.  You are an example of the kindness and respect OhioGuidestone offers everyone who needs our help.