OhioGuidestone and the Pedaling Parsons work for Recovery
Written by Savannah Heck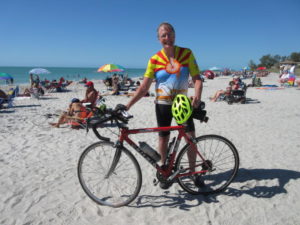 Pastor Don Richards believes that churches can—and should—play a larger role in efforts to reverse the tide of the rapidly growing opioid epidemic.
That is why The Pedaling Parsons, a faith-based organization Pastor Don volunteers with, chose OhioGuidestone as beneficiary of their 2017 fundraising efforts. The Pedaling Parson's generous donation of $18,500 will directly benefit OhioGuidestone's Recovery 360° clients.
To Pastor Don, there is no better bridge between churches and service providers than OhioGuidestone, a social services agency providing top-notch Substance Use Disorder care, with roots in the Methodist church community. Every year, OhioGuidestone's recovery programs help thousands of individuals who struggle with this disease.
Through this donation, Pastor Don wants "to give hope to families who feel hopeless to have seen their grandchildren, children, and parents have their lives consumed and ruined by addiction," he said.
OhioGuidestone helps heal individuals and families impacted by this epidemic by providing services to heal clients' minds, bodies, and spirits. Our community workers also connect clients with resources from food pantries to local faith communities and churches.
"As the church, we're supposed to spread the word of God in a way that spreads love. [Churches that partner] experience new levels of vitality, and for those with addiction that they're helping, there's a renewal of spirit."
As the Pedaling Parsons pedal toward their 32nd year, they can ride easy knowing that their donation will help thousands of OhioGuidestone clients find healing.
To learn how you can help OhioGuidestone's Recovery 360 efforts, contact Arian May at Arian.May@OhioGuidestone.org.